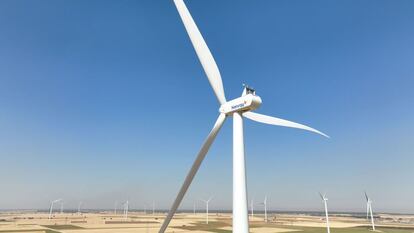 New wind power record in Spain. The simultaneous generation of all the wind turbines has reached 20.59 gigawatts (GW) of power this Monday afternoon, a historical peak, according to figures from Red Eléctrica de España (REE). At that time, at 6:40 p.m., almost two thirds of the total electrical energy in the system was of renewable origin. Two hours later, the record has been broken again: 20.6 GW. The combination of strong gusts of wind and an installed capacity that has not stopped increasing month after month has also made possible a sharp drop in prices, which in recent days have landed at their lowest levels since the start of the energy crisis.
Once the power record of December 8, 2021 has been exceeded, it will be necessary to wait until noon on Tuesday —when the electrical system manager consolidates its data— to confirm if two other historical levels have also been exceeded: those of hourly and daily wind generation. In both cases, in light of the forecasts, it seems quite probable that the previous maximum, also recorded on that date, is a dead letter.
"Installed power will continue to grow, so as soon as strong wind arrives again, the records will be struck down again," he predicts by phone Francisco Valverde, an analyst for the consultancy Menta Energía and one of the best connoisseurs of the Spanish electrical network. "Next year we will have another record for sure and maybe even before this one ends," he says.
The strong gusts of wind in recent days in the Iberian Peninsula have placed Spain at the forefront of Europe in energy production with wind turbines. On Sunday it was, by far, the nation of the block that obtained the most electricity through this route, 40% more than France and Germany, second and third respectively, according to data from the Wind Europe sector employers. The almost 240 gigawatt hours (GWh) generator throughout the day covered more than 45% of the national demand, a coverage rate only below the Greek one, which was close to 60%.
The boost from renewables and the sharp drop in the price of gas in recent months have allowed a substantial landing in the prices faced by households with a regulated rate (also known as PVPC). For those domestic consumers, almost 40% of the total, the cost of energy in November will be the lowest in almost a year and a half. "The correlation between the percentage of renewables and the price of electricity is very direct. As wind turbines and solar panels continue to be installed, the bill will continue to drop and the difference between the most expensive and the cheapest hours will continue to grow", projects Valverde.
THE COUNTRY of the morning
Wake up with the analysis of the day by Berna González Harbor
RECEIVE IT
Subscribe to continue reading
Read without limits