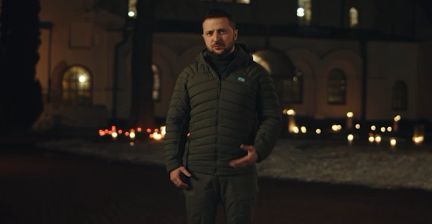 What has happened in the last hours
On the 304th day of the war started by Russia against Ukraine, these are the key data at 8:00 p.m. this Saturday, December 24:
The death toll rises to 10 after the bombardment of Kherson. The Russian attack this morning against the city of Kherson has killed at least 10 people and injured another 55, as updated by the governor of the province, Yaroslav Yanushevich, in an interview with public television cited by the Ukrainian agency Interfax. Yanushevich has assured that there are no military installations in the affected area, nor in the vicinity, which is why he calls what happened a "terrorist act." "This is an attack against civilians," he denounces. The affected places are a market, the shopping center, residential and administrative buildings.
Zelensky, in his Gregorian Christmas message: "We will sing louder than the noise of the generators." The Ukrainian president, Volodimir Zelenski, congratulated Christmas to the Ukrainians who mark the holiday by the Gregorian calendar (a minority in Ukraine) this Saturday, pointing out that the example of the Ukrainian resistance to the Russian invasion "is an example for others ". "There are no suicide drones that can put out the star of Bethlehem," Zelenski pointed out. "We will sing Christmas carols louder than the noise of the generators. We will hear the voices and greetings of our relatives, in our hearts, even if we have neither electricity nor Internet. And, if there is no heating, we will hug each other to warm each other ". "We don't wait for a miracle; we create it," he concluded.
Lukashenko arrives in Russia a few days after meeting Putin in Minsk. The President of Belarus, Alexandr Lukashenko, Moscow's main ally in the offensive in Ukraine, arrived in Russia this Saturday, just five days after meeting his Russian counterpart, Vladimir Putin, in Minsk. The Belarusian president has visited the Russian cosmonaut preparation center, where representatives of Belarus are trained, and will participate in an informal meeting of the leaders of former Soviet countries, scheduled for next Monday and Tuesday in Saint Petersburg, according to official Belarusian sources. .
The former head of the Russian space agency, hospitalized in Moscow after being injured in a Ukrainian attack in Donetsk. The one who was director of the Russian space agency until July of this year, Dimitri Rogozin, has been hospitalized in Moscow after being injured in the back during a Ukrainian bombardment in Donetsk, according to what the Russian agency Interfax reported this Saturday, citing his assistant. Rogozin was wounded on Thursday during a Ukrainian shelling in the city, occupied by Russian forces since 2014. According to Interfax, the former deputy prime minister of Vladimir Putin will have to undergo surgery in the coming days to remove a shrapnel near his spine.
An image of the speech of the Ukrainian president, Volodimir Zelensky, during his televised address this Christmas Eve.