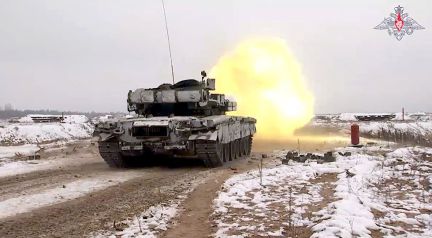 What has happened in the last hours
On the 299th day of the war started by Russia against Ukraine, these are the key data at 12:00 this Monday, December 19:
Moscow launches 35 Iranian suicide drones, 20 of them destined for the capital and its region, of which kyiv claims to have shot down 30. Ukraine woke up this Monday with a new attack committed with dozens of Iranian-made drones that Russia usually uses. Up to 35 of these suicide devices have crossed the skies of the country early in the morning, although 30 have been intercepted, according to sources from the Ministry of the Interior. Most of them, up to 20, have been destined for the capital, kyiv, and its homonymous region.
Ukraine announces power cuts in a dozen regions after the latest Russian attacks. The operator of the Ukrainian energy network Ukrenergo has announced on Monday power cuts in 11 regions of the country, including the capital, kyiv.
Putin travels to Belarus to discuss the "political and military situation" of both countries. Russian President Vladimir Putin will travel to Belarus this Monday to meet with Belarusian President Aleksandr Lukashenko, his main ally in the war against Ukraine, according to a statement on his official website. The objective of the visit is to discuss "the political-military situation" that surrounds both countries, their defensive capabilities and the "joint measures to respond to the challenge that NATO represents."
Moscow announces battalion tactical exercises in Belarus. The Russian Ministry of Defense has announced on Monday that its Army will carry out battalion tactical exercises in Belarus. Moscow has indicated that the Armed Forces "continue the intensive combat training course" in the country, where training classes are held day and night, in such a way that it considers that "the rhythm of combat coordination of Russian military personnel" is high or tall.
In the image, released by the Russian Defense Ministry, battalion tactical exercises of the Kremlin forces, this Monday in Belarus.