The cursor hovers over a jeep driving through an open field. The operator zooms in on the Russian forces vehicle that moves a few kilometers away; Commander Max, who at that moment is talking to his men, looks at the screen and sentences: "You still can't get out, you have to wait." Only half an hour ago this position was again attacked. The 27-year-old soldier is anxious, playing with his red-haired beard, approaching the colleague who is monitoring the images captured by drone again, and looking again at the screen installed in the basement of a peasant house converted into a military barracks.
Tables with radios, maps displayed on cracked walls, Ukrainian flags painted by children who send them as gifts, cardboard boxes turned into beds for dogs and some gnawed sofas; many signs that the space has been inhabited for some time. This Toretsk front is one of the few in the Donetsk province that has not moved since the start of the invasion on February 24. They attacked it in November, but the Ukrainians managed to keep it intact.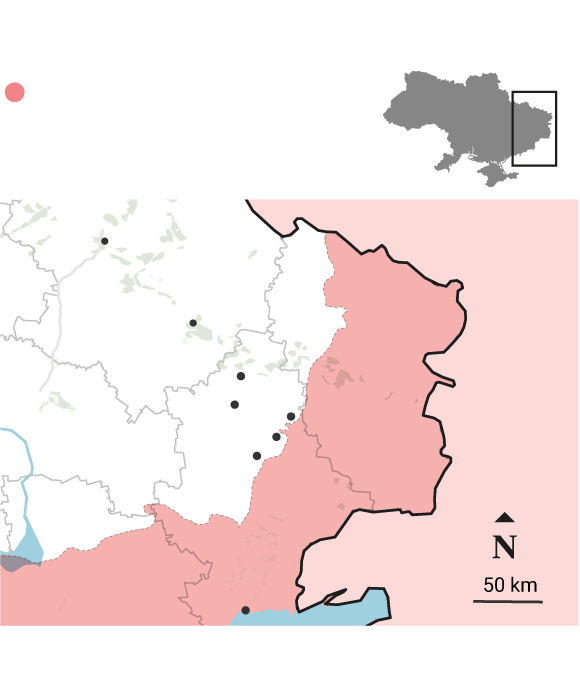 controlled areas
by Russian forces
Source: Liveuamap. THE VANGUARD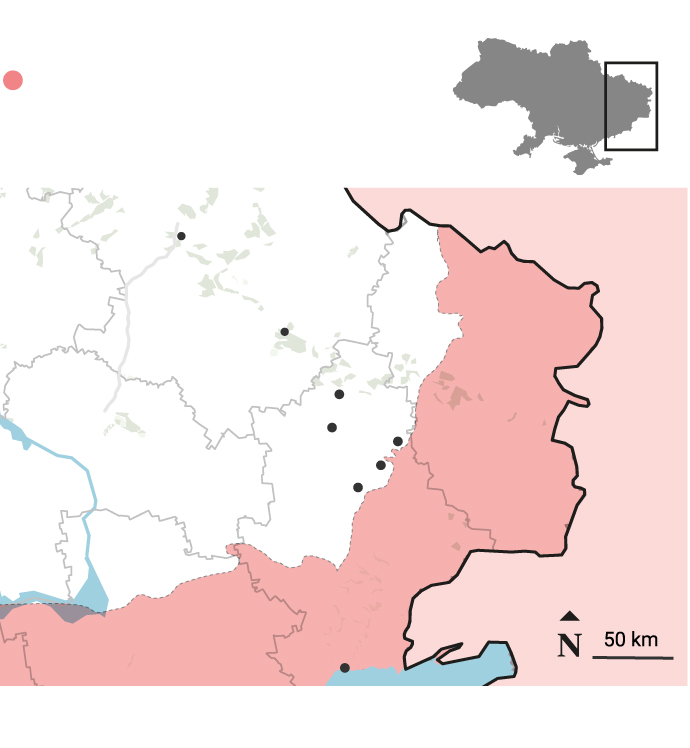 controlled areas
by Russian forces
Source: Liveuamap. THE VANGUARD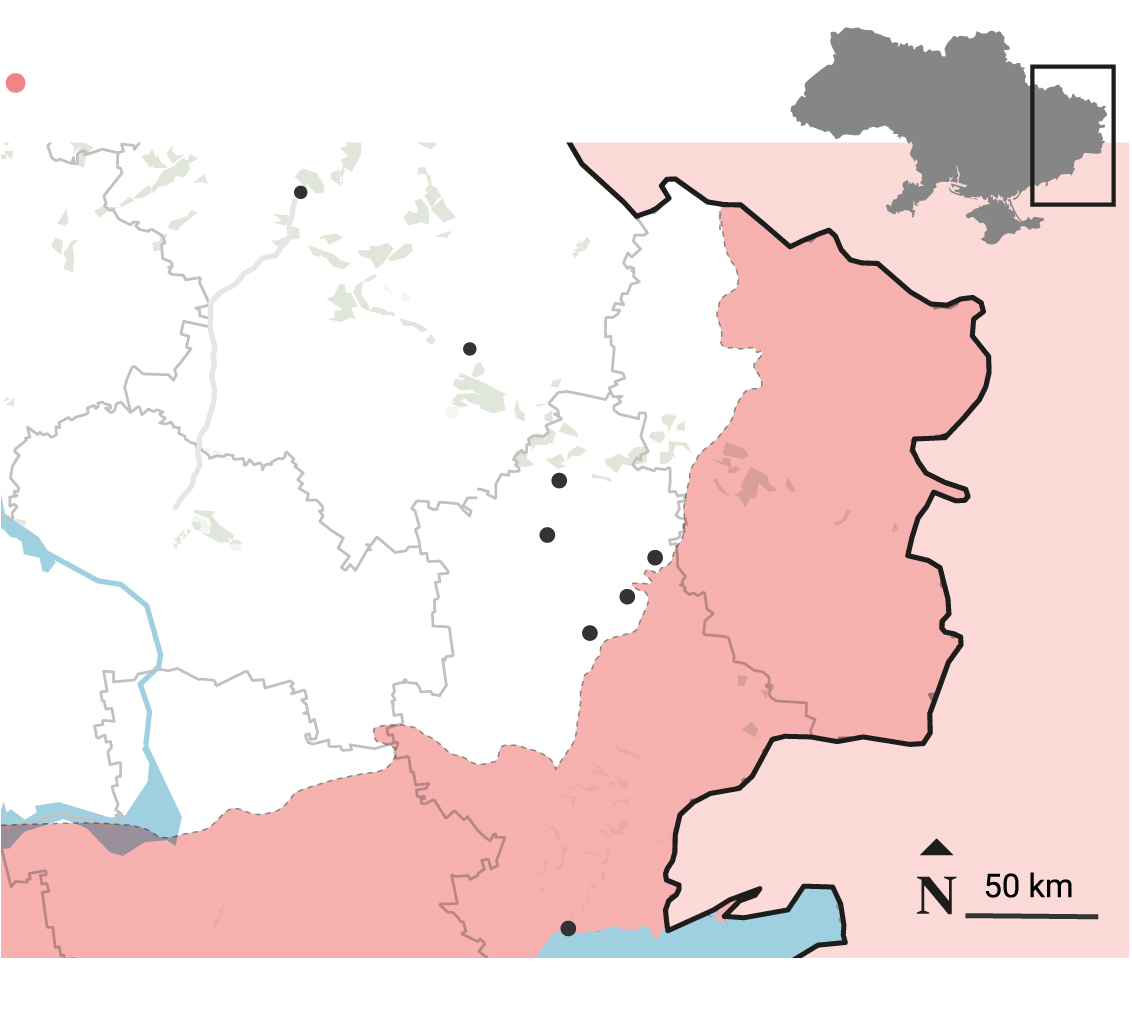 Areas controlled by Russian forces
Source: Liveuamap. THE VANGUARD

"The soldiers attacking us are many…they don't care how many die," says a Ukrainian soldier
Other nearby positions, which remained practically static since 2014, have been penetrated by Russian forces and the Ukrainians have had to retreat a few meters or kilometers, depending on the case. "The soldiers attacking our positions are many…many. Because they don't care how many are going to die", explains Commander Max, who specifies that the Russian men who fall are replaced by others, who in turn are supported by artillery and aviation. They have no limit in terms of ammunition or men, especially since the mobilization ordered by Vladimir Putin in September.
At the front are men from the Wagner militia ("many are prisoners who are threatened if they don't follow orders", they explain at the front), mobilized men ("they are easy to scare") and professional army, among others. One of the soldiers commanded by Max explains it this way: "It's a mixture of stupidity and bravery that is not understandable because for us the lives of soldiers are important."
The Russian offensive in this region of the Donbass has intensified since October. Although the greatest pressure from the Russian forces has been focused on the city of Bakhmut, they are simultaneously charging at different points along this front line, which for eight years divided the province of Donetsk.
In Toretsk, the Russian forces were unsuccessful, but the intensity of the battle was reflected in the number of bodies that remained in the so-called gray zone, according to the images collected by the drones. "Possibly the bodies will never be recovered; the tanks have run over many," says a soldier who identifies himself as Kolpak; he is in charge of one of the defense positions in the first line of this front.
It's a sniper. When he is not watching, he rests in an underground den that is heated with wood-fired ovens. Now that the cold is breaking the bones and the ground is frozen, the rotations are more frequent. "When it rains we fall in the mud, especially in the dark. The problem now is that on days like today, when the sky is clear, there are many drones flying and it is more dangerous", explains Kolpak, who covers his head with a balaclava. This is a drone war, he assures him.
For him and his companions the pressure has been reduced since two weeks ago when the men attacking them were mobilized to reinforce the battle for Bakhmut. "It's like a casino, they have bet so much money and men in that city that they feel that out of pride they have to take it, even without being strategic. But they won't make it," explains a commander in charge of a platoon on the Toretsk front.
"They have bet so many men and money that by force they want to conquer Bakhmut… they will not succeed"
Volodimir, 24, thinks the same. He joined the army after the invasion. The morning we found him, he was lining up to have a coffee in the town of Kostiantinivka, 22 kilometers from Bakhmut, which has become the military center of this area of ​​Donbass. "There are many, there are many drones flying over, but they won't take it because we have very strong defense positions," explains Volodimir, who has just returned from the Bakhmut front.
If in June, when the battle was centered on the towns of Severodonetsk and Lisichansk, Bakhmut was the axis where logistical efforts were concentrated in this part of Donbass, now it is Kostiantinivka, whose main attraction is the railway station. In his streets there are so many soldiers that Elnur decided to open a branch of his store dedicated to military objects, all imported from Turkey. It sells everything you need at the front, but especially fleeces and hats, so appreciated now that temperatures reach -9ºC.
The economy of this small town flourishes because of the war. It is almost impossible to find a flat to live in, says Irina, who until October ran the main supermarket in Bakhmut. When we met her in July she assured her that she would never leave the city, but she had to in October when her apartment was destroyed. She adds that there is no water or electricity. "Only the oldest remain, all in the basements… even those who were crying out for the Russians to come have left after their houses were destroyed," she says.
For now, he works at the supermarket branch in Kostiantinivka, but when he has time he dedicates himself to helping the evacuees. This is the case of Vladimir, 84, who lived alone in a Bakhmut basement until a week ago. His firewood ran out and he was freezing. One day he went out to get something to eat and came across a military car, which stopped.
"He told me: Grandpa, what are you doing here? I was in Mariupol, I have seen what those people are doing, please go away", says Vladimir, sitting on the bed of a humanitarian organization in Kramatorsk. The NGO is dedicated to evacuating people from conflict zones but for days they have stopped going. Those inside have been left without communication.
A scenario opposite to that of Bakhmut is lived in Kramatorsk and especially Sloviansk. Although there are long power outages, as in the rest of Ukraine, the city breathed again after Ukrainian forces retook control of the Kharkiv region, but especially Liman. Since then it is no longer under artillery.
Valentina Hlushchenko is the director of the Sloviansk Clinical Hospital. In recent weeks, she has witnessed how more people return, but also how the number of patients seeking care for normal illnesses grows. "There are many patients from territories that were occupied, they lived for months in basements. Some have been sick for months," says this woman, who hopes that the hardest part of this war, at least for Sloviansk, is behind us.