Plenty of sun, good locations for wind power and thousands of unoccupied hectares: green hydrogen and ammonia, its derivative and main alternative to be able to transport it over long distances, have found in Andalusia the favorable ecosystem for their emergence in Europe. The recent move by two of the largest energy companies in Spain, Cepsa and Iberdrola, which have just unveiled their plans to launch their own renewable ammonia production plants on Andalusian soil, has been the spearhead of a trend that —although more timidly—had already started before.
The Cepsa and Iberdrola projects are not exactly minuta pecata. They will entail an investment of 1,750 million —1,000 that of the oil company, which will be the largest in Europe of its kind; and 750 for the electric company—, with Cádiz (San Roque) and Huelva (Palos de la Frontera and the capital itself) as chosen locations. To this we must add everything announced before: almost two dozen projects, although on a much smaller scale.
Why Andalusia? The choice of this community responds, above all, to a question of costs. "It is clearly the most competitive place in Europe to generate green hydrogen and ammonia," summarized Cepsa's CEO Maarten Wetselaar a week and a half ago, when asked about the reasons behind his commitment to the region. In the company's spreadsheets – whose main shareholder is the Abu Dhabi sovereign fund, built with the help of petrodollars, but which is now playing the game of depending less and less on crude oil – 80% of the cost of production is renewable electricity. "And Andalusia is, together with the south of Portugal, the point of the continent where it is lowest. It is a structural, fundamental advantage, as is space: it has a lot to develop large-scale projects ", he assessed in response to questions from EL PAÍS. The manna from European funds, he recognized, is also a key factor.
"If easily transportable green hydrogen derivative projects (ammonia, methanol…) are built, then the south of the Iberian Peninsula has all the necessary ingredients to achieve competitive products: abundant and competitive renewable energy, powerful industrial fabric and ports with export capacity", completes Millán Garcia-Tola, global director of Green Hydrogen at Iberdrola. "In addition, the maritime corridor that connects Spain and Portugal with the Netherlands will be a fast way to transport renewable energy from southern Europe to the large consumer centers in the north using energy vectors such as green ammonia."
Between three and four euros per kilo
This cocktail of factors shows an average cost per kilo of green hydrogen of between three and four euros in Andalusia, according to Cepsa executives. It is half that in the center of Europe, where the largest present and future consumer of this gas called to change the course of the energy transition is located: Germany. Some figures in which he also agrees Carlos Bernuy-Lopezgreen hydrogen expert and senior consultant at the Danish engineering firm Raboll.
With these numbers in hand, emphasizes Bernuy-López, the cost of hydrogen produced with photovoltaic or -to a lesser extent- wind electricity in Andalusia is practically at the same level as that generated with natural gas, if the cost of the carbon emission rights that come with it. "This means that Spain and, particularly, Andalusia will have a competitive advantage for decades, until the price of renewable electricity is equalized between regions."
At the moment, the gap is abysmal: in Spain, emphasizes the Spanish technician, the generation cost of new solar projects is around 30 euros per megawatt hour (MWh), also half that in Germany. And even when it narrows, warns Bernuy-López, that country will continue to need huge amounts of hydrogen to power its manufacturing plant. "Spain can and should be one of its main suppliers, but it should not settle for being a country that produces and exports hydrogen: it has to add value and attract industry."
the shadow of the bubble
All in all, Daniel López Marijuán, head of the Waste, Energy and Climate Change area at Ecologistas en Acción, prefers to be cautious about what he believes may be "a bubble" encouraged by the possibility of "herding in subsidies." "From environmentalism we criticize that the commitment to green hydrogen does not imply a real change in the energy model. These investments can be positive if they are not oversized, they are reasonable and sensible", points out López. In fact, the environmentalist estimates that up to 60,000 tons of gray hydrogen are produced in Spain —from gas or hydrocarbons—: "If all that is replaced by production from renewables, it is positive."
Although this will require the construction and start-up of a portfolio of projects that Cepsa has already quantified at three gigawatts (GW) of wind and solar power, with an additional investment of 2,000 million euros. It will be through solar and wind plants that will be located in the vicinity of its refineries, whose extension has not yet been specified.
Both for the councilor of San Roque, Juan Carlos Ruiz Boix (PSOE), and that of Palos, Carmelo Romero (PP), these new solar fields do not pose a problem. In fact, they wholeheartedly embrace the investment. The man from Cádiz assures that in his municipal area there are already projects underway that will multiply the photovoltaic surface: "We are going to try to make it sustainable with the primary sector and with tourism." Romero also assures that his intention is "to have new fields installed in the municipality." López Marijuán, however, points out that, socially, it is not so simple because "they generate more and more rejection", as demonstrated by the demonstrations against these facilities that have already taken place in Campo de Gibraltar itself.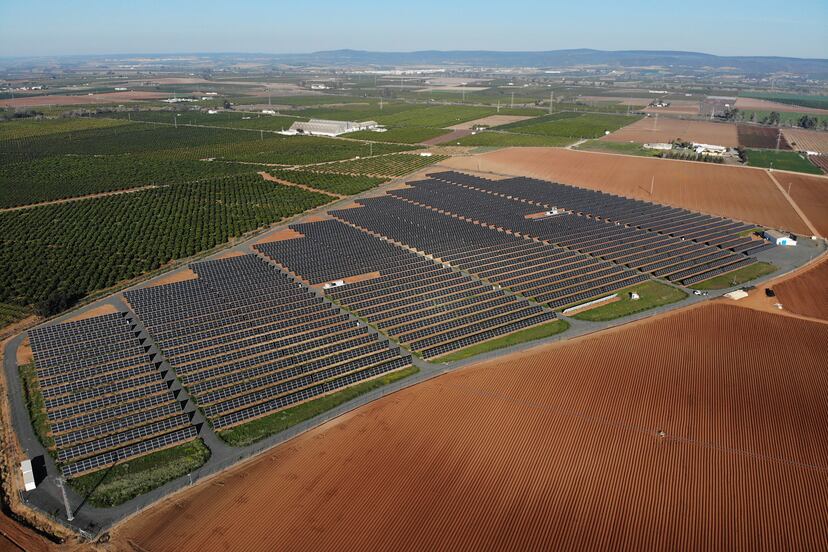 Talking about green hydrogen is, in a way, talking about the future. Not only because most of the big names in the energy industry are betting on it to replace fuels in the areas that electrification finds it most difficult to reach (freight transport, especially by sea; aviation; heavy industry), but because in the very short term the greatest sense of these projects is to replace the current uses of dirty hydrogen, the one generated with fossil fuels. And there, the Andalusian sites also take on a special meaning: Cepsa's ammonia plants will be next to two of the company's already operating refineries, in Palos de la Frontera (Huelva), a powerful Andalusian chemical hub, and San Roque (Cádiz), one of the municipalities that make up the important petrochemical pole of Campo de Gibraltar, also linked to the nearby port of Algeciras, one of the most prominent in Europe.
Although all the projects underway are designed to first cover national needs and then export green ammonia by ship, the figure of H2Med or BarMar, the future tube that will connect Barcelona with Marseille and that will allow Spain to sell huge volumes of hydrogen, continues projecting itself on the horizon with an expected date of entry into operation: 2030. "The maritime corridor that we are going to start up and the hydroduct are totally complementary," Wetselaar slipped in the launch of his project. "Sea traffic may go down when we have the tube, but we'll need both."
Thousands of jobs, but no training
The announcement of the new green hydrogen production points in Cádiz and Huelva will bring thousands of jobs. Only Cepsa assures that it will need 10,000 new workers, between direct and indirect. That excites the councilors of San Roque (Cádiz) and Palos de la Frontera (Huelva), who eagerly embrace the investment. "It will guarantee that San Roque continues to have a relevant weight in the Andalusian industry," says the mayor of San Roque, Juan Carlos Ruiz Boix, referring to the Campo de Gibraltar petrochemical complex, which already generates 9,629 jobs, according to the latest report from the association. of companies in the area, AGI. However, Antonio Fernández Espinosa, General Secretary of Metal (FICA) of UGT in the Campo de Gibraltar, doubts that all these jobs are "constant" and believes that they will be more linked to the peak of the construction of the plants.
Fernández praises, however, the investment, but in the last meeting that he has already had with Cepsa, he did convey the greatest union fear. "The jobs that are foreseen are specific and qualified, and so much labor does not exist. In the Campo de Gibraltar, pipe workers and welders are already established in their companies. And it will not only be here, it is also Huelva, right? Where are the professionals going to come from?" asks the trade unionist. The mayor of San Roque has a similar claim, concerned about an investment that, in his opinion, should go hand in hand with the creation of vocational training centers in his municipality. "The Junta de Andalucía has not done its part in the planning and that is a deficiency detected because there are no proposals for the young population to train in those jobs that will be needed," denounces the councilor.
Follow all the information of Economy and Business in Facebook and Twitteror in our weekly newsletter
Five Days agenda
The most important economic appointments of the day, with the keys and the context to understand their scope.
RECEIVE IT IN YOUR MAIL
Subscribe to continue reading
Read without limits