Écija is no longer just the pan of Andalusia. The emergence of hedgerow olive cultivation in recent years has made this Seville municipality the world leader in olive oil, grinding more than 180 million kilos of olives in one campaign. With average productions of 1,400 liters of oil per hectare, this type of cultivation is revolutionizing the olive oil map with spectacular growth both in the Guadalquivir valley and in the Portuguese Alentejo. This Portuguese region has multiplied by six its area of ​​olive groves in seto in the last decade, and is now known as the Silicon Valley of olive growing.
While the area of ​​traditional olive groves grows at a rate of 1% per year (there are currently 11.5 million hectares planted in 64 countries around the world), hedgerow cultivation does so much faster. There are around 400,000 hectares, of which more than 50% are in Spain. However, analyst and strategic consultant Juan Vilar predicts that by 2030 more than 20% of olive groves will be planted in hedgerow production.
With an average annual grinding of 110 million kilos of olives, the Molina del Genil mill in Écija (Seville) is already the one that produces the most olive oil in the world: some 25 million kilos last season. Almost 40% of the harvest comes from the hedgerow olive grove, which today is the only crop used. "No one considers not producing in the hedge anymore, due to the higher productivity and, above all, the less labor required," explains Eduardo Rosa, the operations manager for this oil company owned by the Martínez Sagrera family (it has 75 % of the capital) together with the businessmen Miguel Gómez and Ramón Martínez. All of them are also owners of the Lagar do Sobrado mill, which grinds 70 million kilos of olives in Ferreira, in the Portuguese Alentejo.
Although Seville has established itself as the territory with the highest percentage of modern olive groves, crowned and hedgerows, occupying 55% of the provincial area, it was in Huesca where this crop emerged in the mid-1990s, when trellised vineyard producers They wanted to cultivate the olive trees taking advantage of their riding grape harvesting machines. The good results of those first harvests later encouraged other farmers in Murcia, Ciudad Real or Tarragona and later it spread to France, where it had to overcome not a few reluctances from local producers due to the use of foreign varieties. Almost at the same time as in France, the hedgerow olive grove expanded to California and, later, to countries such as Tunisia, Chile, Morocco, Italy and, more recently, to Australia, Argentina, Saudi Arabia, Turkey, Iran, Libya and Algeria. .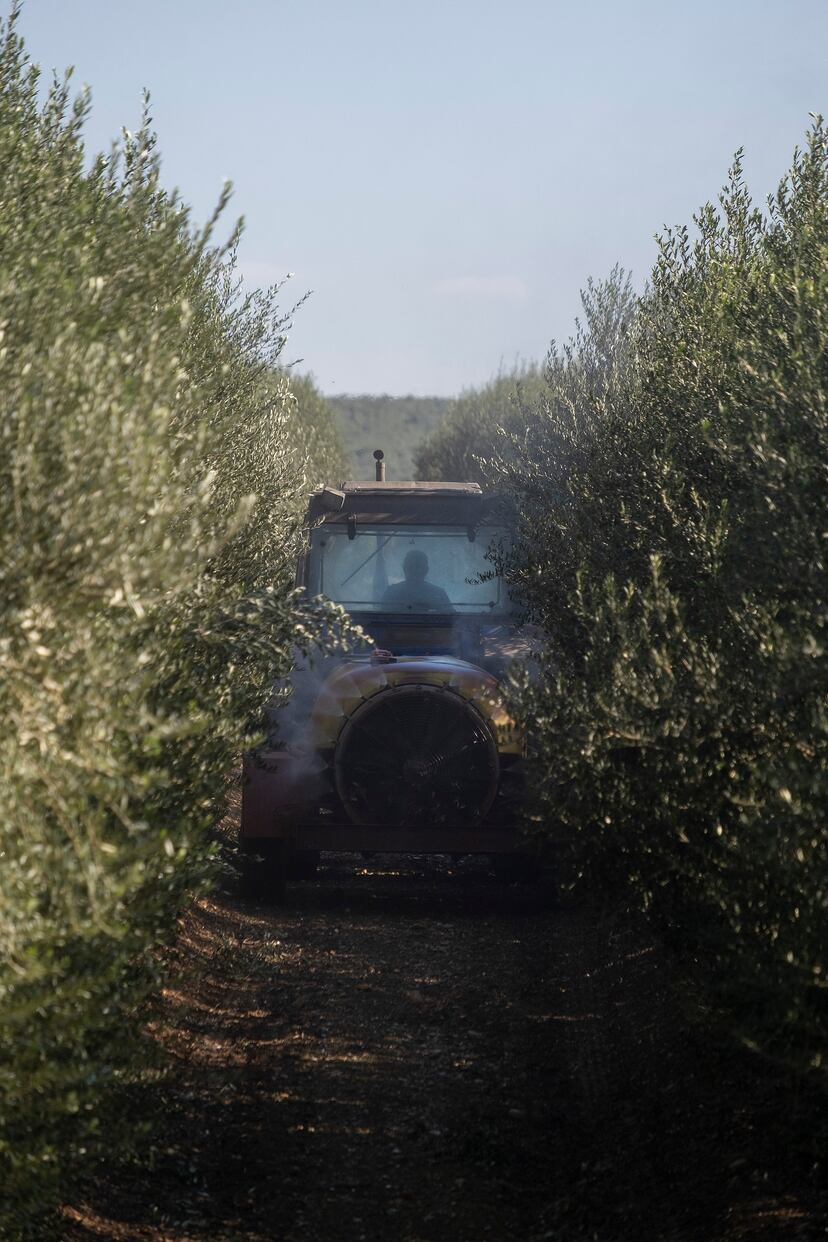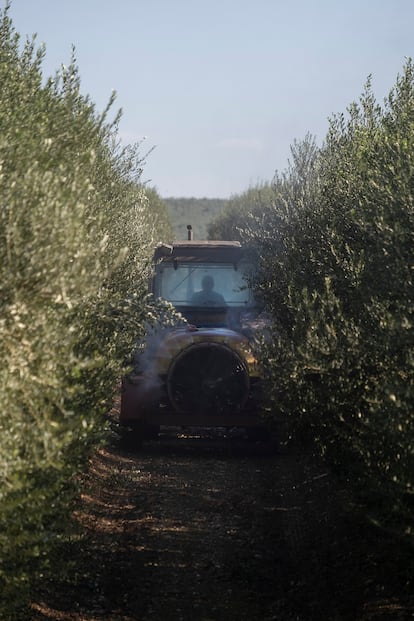 Farmers' interest in hedgerow olive groves has to do with its high earliness, since it comes into production barely two years after planting, and, especially, due to the significant reduction in harvesting costs and less dependence on labor, which is replaced by mechanization. Eduardo Rosa, from Molino del Genil, explains that on a 1,000-hectare farm it is harvested with just four or five workers, compared to the 400 that would be necessary on an intensive olive grove farm. Average productions are 12,000 kilos of olives per hectare, with net fat yields of around 16% and about 1,900 kilos of oil per hectare.
Although hedgerow and super intensive are sometimes used interchangeably, they are not the same. The most notable differences are, above all, in the distribution of plants per plot: while the second has a higher density (it ranges between 1,200 and 3,000 plants per hectare), the first can go from 400 trees per hectare in dry conditions to about 1,160 irrigated.
"Our origins were in the olive grove in the cup and in the superintenviso, but in 1999 we started with hedge cultivation when we verified that it greatly lowered the costs of harvesting, and at the same time allowed all the oil obtained in a farm to be extra virgin [el de la máxima categoría] thanks to the great harvesting speed of the machines, which allowed all the fruit to be harvested from the tree, at the best possible ripening moment and without it touching the ground," says Felipe Oliva, Todolivo's technical director.
This Cordovan company is a leader in the execution and management of this type of olive grove, with more than 37,000 hectares planted in Spain and abroad. Todolivo defends that the sustainability of the hedge is greater because it uses fewer natural resources and inputs, consumes less water and electricity on irrigated farms and requires fewer phytosanitary products. The Cordovan firm carries out a genetic improvement program, through which it works with twenty new multivarietal plantations with which greater agronomic use of the farms is achieved.
Portugal multiplies its production by ten in 20 years
The growth of olive production in Portugal has been amazing in recent decades. At the beginning of this century, the Portuguese country barely represented 1% of world production, but in 20 years it has gone from 24,000 tons to more than 230,000 last year. Portugal has an area of ​​361,483 hectares of olive groves, of which two thirds correspond to olive groves in hedgerows (80,000 hectares), intensive and super-intensive.
The Alentejo region already produces 75% of Portuguese olive oil. And this is largely thanks to the spectacular growth of the hedgerow crop. It has gone from having 10,000 hectares in 2015 to more than 60,000 today. Throughout the country there are slightly less than 500 mills, but a dozen of them arrive in some campaigns to grind more than 100 million kilos of olives, a figure that in Spain is only exceeded by two factories, Molino del Genil, in Écija (Seville). and El Pilar, in Villacarrillo (Jaén). "In the year 2000 the average productivity of the olive grove in Portugal was one ton per hectare, but today thanks to the modern olive grove we can reach an average of 20 tons per hectare", highlights Gonçalo Almeida, director of the Association of Olive Growers of the South of Portugal, Olive.
One of the leading companies in hedgerow olive groves is Nutrifarms, the agricultural division of the Sovena group, which has some 7,000 hectares planted in Portugal next to the Alqueva reservoir (the largest in Europe), producing more than 12,000 tons of oil. on their farms. "Everything is planted and managed under precision agriculture, with intelligent irrigation, which allows for more efficient agriculture given the available resources and better technically supported decision-making," explains Vasco Cortés Martín, the company's CEO.
Around half of the oil factories that have been created in Portugal have done so thanks to foreign capital, mostly Spanish. This relocation of the olive oil nerve center is explained as follows by Professor Vilar, who is director of the Master's Degree in Administration and Management of Olive Oil Companies at the University of Jaén: "It is a bet that tries to remunerate to a greater extent the holding of farms, with a more efficient, more sustainable, more innovative way of working, and developed in a more prosperous environment for it".
Vilar, however, does not believe that this new configuration of the olive map has to be seen as a dispute between the hedgerow and super-intensive olive grove, and the traditional one. "All types of olive growing are complementary, each one of them has an advantage: that of the modern olive grove lies in competitiveness and that of the rest lies in the differentiation, singularization and nuances of the olive oils produced by said typology. They are still different ways to bring the best olive oils to the market, to the shelf", he explains.
Álvaro Labella, from the Olibest oil mill, in the municipality of Serpa, forecasts an even greater expansion of the olive grove in seto. "There is no example in the world of such a large conversion of the olive grove into a hedge as in the Portuguese Alentejo, partly due to the availability of water and the need to substitute less profitable crops."
THE COUNTRY of the morning
Wake up with the analysis of the day by Berna González Harbor
RECEIVE IT
Subscribe to continue reading
Read without limits