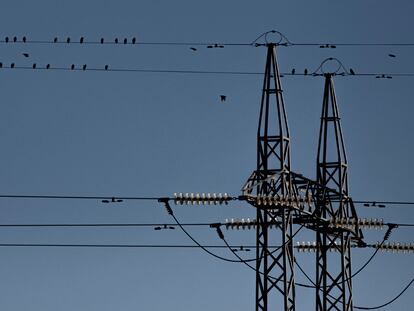 The escalation of prices in recent months and the greater collective awareness continue to affect the consumption of electricity. In the midst of the European energy crisis and between calls by the community and national authorities to save, the Spanish demand for electrical energy registered a fall of 6.8% in November in values ​​already corrected for temperature and calendar. In gross terms, according to data published this Friday by Red Eléctrica de España (REE), the fall was 9%. In both cases, it is the biggest decline since mid-2020, when the pandemic plummeted consumption in businesses and homes.
With November there are already five consecutive months of decline in electricity consumption: since July, the total demand for electricity has not stopped falling in annual comparison. In the accumulated so far this year, the landing of consumption is around 2.8% corrected for weather and labor, a figure that remains at 1.8% if no adjustment is applied.
After this clearly downward trend, a multitude of factors emerge: from those already mentioned —the lack of energy and increased awareness, particularly after the Russian invasion of Ukraine— to the savings plan launched by the Government in August, which limits the temperature inside shops and public buildings. The drastic reduction in industrial demand also has a lot of influence: in November, as in previous months, the decrease in consumption in the manufacturing sector was double digits.
By geography, the fall registered in November in mainland Spain (-7.1%, in adjusted terms) and in the Balearic Islands (-8.4%) contrasts with the increase recorded in the Canary Islands (+2.5%). In both archipelagos, gas was the great dominator of the mixedwith combined cycles contributing 77% and 44% of the electricity consumed, respectively.
sweet and sour taste
The data published this Friday invites a bittersweet reading. They are good news in purely energy and environmental terms (it forces us to burn less natural gas, the most precious fuel these days) and contribute to the recent drop in prices (as demand falls, there are more time slots in which renewables cover a substantial part of what is consumed). But they also reflect a worsening in the activity of some sectors, with the secondary at the forefront.
Unlike what happened in previous months, in which combined cycles (the plants in which gas is burned to obtain electricity) were the main source of electricity generation in Spain, the good tone of wind power in November boosted wind turbines to the lead with a share of 31%, the highest since December 2020. In total, renewables (wind, solar and biomass) produced 5.6% more than in the same month of 2021, accounting for 47% of the mixed. Adding the contribution of nuclear, more than 67% of generation technologies did not emit carbon dioxide.
THE COUNTRY of the morning
Wake up with the analysis of the day by Berna González Harbor
RECEIVE IT