EL PAÍS offers the América Futura section open for its daily and global informative contribution on sustainable development. If you want to support our journalism, subscribe here.
In a corner In Chajul, in the department of Quiché, there is a boarding school occupied today by 10 Guatemalan peasant women who are learning to create solar panels to bring electricity to their communities. Most of them do not know how to read or write and live in dispersed and remote locations, even at the hands of the Government. Doña Julieta Fernanda Tzoy, 69, is the oldest of all and she memorized her vowels in the only school year that she attended six decades ago. "A, e, i…", she presumes shyly. Since then, her job has been to care for her seven children and her 30 grandchildren, in Exchimal, Huehuetenango. "I thought I was too old to learn," she says by video call. A few minutes later, she will solder the component board that will go into the portable lamps they are learning to make. "I want everyone to have electricity where I live," she says.
The initiative took place at 16,000 kilometers. The Barefoot College International organization was born in India to provide a different education to women who only knew the field and inequality. From Papua New Guinea to Zanzibar, there are already 3,500 solar mamas, women trained in basic solar engineering around the globe in the last decade. "The number is very valuable because it implies that all this knowledge reaches such remote places, but too little for the challenges that lie ahead," explains Rodrigo París, CEO of Barefoot College International.
In an effort to expand the experiences -which initially were only taught in the Asian country- the entity decided to bet on Latin America. Guatemala, with an energy poverty of around 35% (a term that refers to the inability of its inhabitants to meet energy needs), and with one of the largest indigenous populations on the continent (41%), was among the first candidates. Adjusting to local needs has always been a priority: "Taking these women to India had many benefits, because most of them had not left their country and it was a very enriching experience," says París, who is of Colombian origin, " but we wanted to be close to the environments of these women, their religions, their knowledge, their ethnic groups…".
For Rosenda Francisca García López de García, 33 years old, the school is very close, in the neighboring apartment. This mother of four children lives in the Cumbre La Botija community, in Huehuetenango. The 10 watts of the tiny panel that she has in her house is barely enough to charge her cell phone. Much less to give light to her little ones at night, when they come back from splitting firewood and want to finish the chores. "But at least it does something," she says. It is the panel that her husband bought, two days before he died, just 10 months ago. "He would be very proud of what I'm doing," she laments, unable to hold back her tears.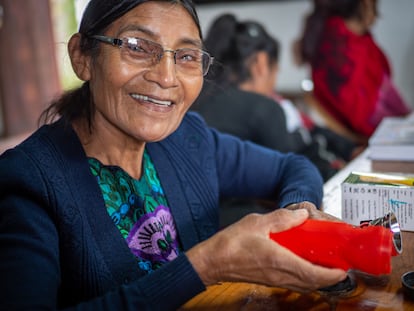 In rural communities, few are the men who do not view the project with some suspicion. Many do not understand why women are responsible and not them. Bárbara Pérez, director of programs, is clear about it: "We believe that if women had the same opportunities that men usually have, we would live in a better world. We just have to give them the tools."
The solar panels that help to manufacture in the organization, financed by the Indian Government, private entities and philanthropic foundations such as Bill and Melinda Gates, have little to do with those of Doña Rosenda. They are 70 volts and have a capacity for four bulbs that can be located according to the needs of the village. In addition, the peasant women learn to make portable lamps that can also recharge cell phones and have a useful life of two decades. This Indian technology is accompanied by mainly graphic books, adapted to its students, since most of them cannot read or write.
"The classes are taught at their own pace and maintaining the methods of Indian studies," says París. However, there are Guatemalan luxury trainers. Juana Emelia de León Marcos, 27, was a student in India two years ago and today is a paid teacher at the center. "I understand that they sometimes get discouraged, it happened to me too," she says by video call when referring to the learning process. "Education in this country is all private and access to this training for free is lucky", he explains, "I help them understand what is more complex, I translate some words in English… and I always tell them: 'Imagine when you already have electricity'".
Light to not stop studying
The students come from different towns, but with very similar realities. Especially the shadows. In five of the country's 22 departments, the most rural and with the greatest indigenous presence, electricity coverage does not exceed 20%. And despite the plans announced by the Government for the return to the classroom after the pandemic, the strategy remained a dead letter.
"In my community, the teacher comes twice a week," says Doña Rosenda. Juana agrees: "They no longer have full hours, they only come for two or three hours." The fear of all is the same: that the children leave school early. The very high rates of school dropout in the country, which is around 51% in adolescents and young people, according to Unicef, fuel fear. "I want us to have light so they can do their homework. Today, one needs electricity."
And it will soon come thanks to the hands of these women who have been made resilient by life. Pérez is excited to think about how solar panels can be a small revolution in all spheres. "We know that the challenges are many, but so are the ambitions. Just like their desires and abilities".