Every night in Beirut, Josée-Kim Arbajian and Ahmed Assaf make sure that they will have light the next day, each at home. The first is in Ras Al Nabaa, a middle-class neighborhood that houses the French Embassy; the second, without electricity, in Shatila, the Palestinian refugee camp infamous for the 1982 massacre. Arbajian, 28, checks on his mobile. An application tells him that, in effect, the solar panels that his father bought last September for $8,000 (7,520 euros) still go a long way. "Now, during the day, I can keep everything on at the same time: the fridge, the television, the air conditioning… Only when you have the plates, do you think: how could I have been without them for so long?" He assures. He descends from Armenians who escaped the genocide of the Ottoman Empire at the beginning of the last century and ended up owning the entire building (with 13 apartments) and a heavy machinery parts company in Beirut.
Assaf, meanwhile, sees to it that his partner's car battery provides him with light the next day when the sun goes down. When he finishes his day as an elevator fitter, he removes the vehicle's battery, drives it up the house, places it on a riser, and connects it to a tiny, dim LED bulb. "I have two light bulbs, one in each room. If I hook the battery to one, it gives me 48 hours; if I hook her to both at the same time, for 24 ″, he explains. The mobile phone charges it in a friendly cafeteria.
He is one of the thousands of outcasts that the Shatila camp has absorbed for years, mainly Syrian refugees like him, but also Iraqis, Sri Lankans, Filipinos and even Lebanese. He says that he is 41 years old and that he was released from prison last May, after serving five years in prison for negligence that led to the death of his son. He rents only an apartment without electricity or gas. His wife will remain behind bars until 2024. Also his four-year-old son, who was born in prison and whom he still hasn't met, he says.
The collapse of Lebanon has provoked an every man for himself that is exposing even more who can and who can't. The country (6.9 million inhabitants) has been going through an economic crisis since 2019 ―increased by the pandemic and the explosion in the port of Beirut― that the World Bank includes among the three worst in the world since the mid-19th century. 80% of the population is below the poverty line, the currency has lost 95% of its value and public debt accounts for 180% of GDP. A bank corralito prevents the population from withdrawing more than 100 dollars a week from their own account.
Join EL PAÍS to follow all the news and read without limits.
subscribe
In these last three years, the Lebanese have not only specialized in consulting the web pages that collect the real exchange rate in the market of their currency against the dollar. They have also done a crash course on electricity supply. Technical terms like amps or power inverter dominate everyday conversation today.
Power cuts are not new in Lebanon. The network never recovered from the civil war (1975-1990) and is clearly dysfunctional: in a country with 300 days of sunshine a year, only 1% of state energy comes from plates. 95% of fuel burning. But now, with the disappearance of the State (its electricity only offers between one and two hours of light a day), citizens have been left in the hands of private providers that sell amps at an opaque and changing price that varies depending on the neighborhood. It is known as ishtirak (subscription): Large generators that power a building, or a block, and can be seen on street corners.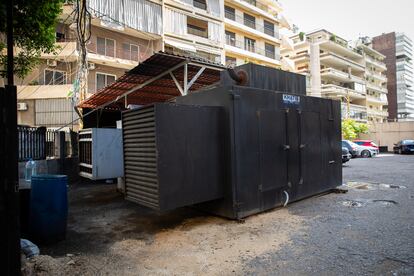 In this context, the rooftops of Lebanon are being filled with private solar panels. The boom has little to do with the environment and a lot to do with the autonomy they provide in the face of the high prices imposed by the "mafias" of generators -as many call them- and with the feeling that the crisis is going on for a long time and, therefore, Therefore, the investment will end up amortized.
In the race to switch to solar energy, deception and selling second-hand plates like new have become widespread. So the Arbajians settled on a quality eight supplied by a reputable supplier that had been recommended to them. The plates do not cover all the energy needs of the 250 square meters that Josée-Kim shares with her brother and that she usually has for herself and her dog Izzy. Therefore, she still needs the private generator. She shares 22 amps with her father, more than many families with children can afford. In this neighborhood, five amps cost $100.
"If in the future the electricity offered by the Government increases, God willing, we will save a lot of what we pay to the generator. But the assumption when buying the plates has been that this is only going to get worse, that the fuel is going to get more expensive. Who knows if one day they suddenly tell us that five amps are worth $200. Or, I don't know, that the generator only lasts five hours a day", he explains. Her hand as an architect and interior and product designer can be sensed in the small and elegant details of the decoration, with furniture and classic colours.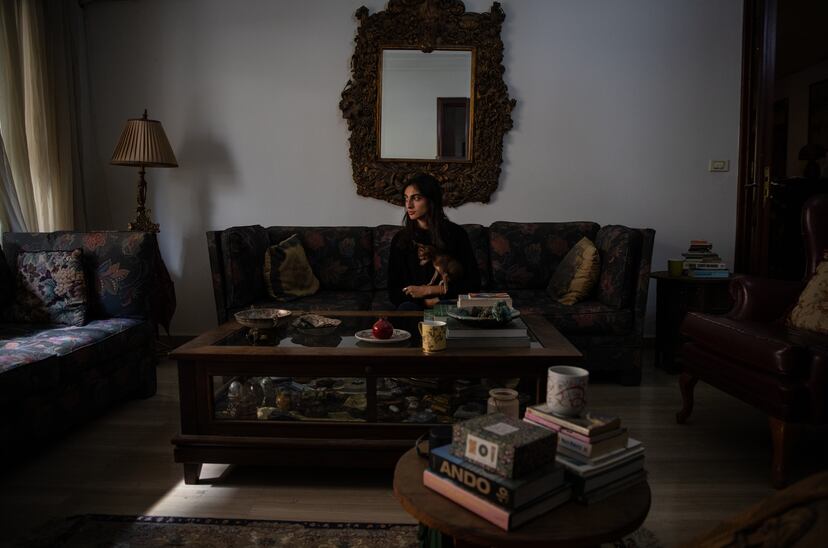 His father Joseph, a 67-year-old widower, lives in the other apartment on the same floor. There was a time when, after being hospitalized, he paid two subscriptions to private generators, to make sure that the oxygen cylinder would not fail. "My life is better now, but we can't be selfish and think only of ourselves. The country is suffocating, "he laments.
Paying for the generator (2.5 amps at $80 in Shatila) doesn't even cross Ahmed Assaf's mind. His house is directly disconnected from the network of impossible cable knots that cross the narrow streets of this area among young people consuming drugs.
Assaf claims that half of the $260 he earns a month goes to his first wife, because he was convicted—along with his current partner—for negligently causing the death of their son. He only pays, as a favor, 40 dollars in rent for an apartment in an alleyway in total darkness, which he reaches with the help of his cell phone flashlight.
With abandoned planks, he assembled the only two wooden pieces of furniture in the apartment: a plywood wardrobe and some shelves. To cook, she uses an old camping gas. "I prepare very simple things so that he doesn't consume," she clarifies. Since she can't have a fridge either, she throws away more cheap products that last a long time without cold, such as tomatoes, garlic, typical Middle Eastern pickles and samne, a clarified butter. "Before going to prison he rented a house. Also here, but it was good, it had everything. There is nothing left of that anymore. Everything has been stolen or resold ", she assures slowly and with a lost look.
Assaf recounts that he fled his city in Syria, the hard-hit Hama, in 2015, one of the worst years of the war that broke out four years earlier. "At first, I went back and forth, until they destroyed my house. I was left with nothing, "he says. He knows that the Lebanese government last October resumed a plan – halted due to the pandemic and criticized by human rights NGOs – to promote the voluntary return to Syria of refugees (1.5 million, according to the official figure). Only a few thousand have joined. Most, like Assaf, don't want to: "I have sisters and brothers there, and sometimes they tell me to go. But I know they have no place for me… Actually, I have nothing to go back to".
Follow all the international information on Facebook Y Twitteror in our weekly newsletter.
Subscribe to continue reading
Read without limits