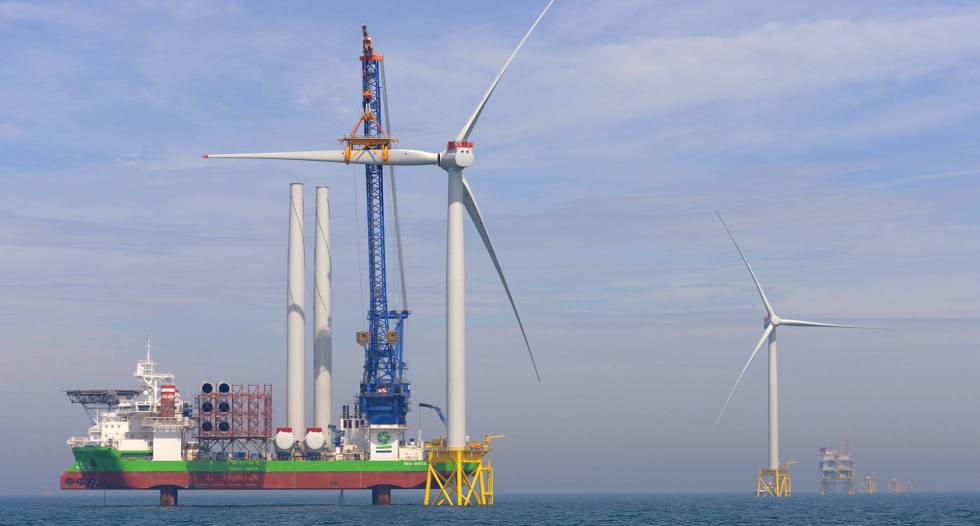 The price escalation has left in the air the agreement that Iberdrola and Siemens Gamesa (SG) sealed in February 2021 and that made the manufacturer of wind turbines a "preferred supplier" of the electricity company to supply and install the "most powerful" wind turbines and productive in the world", according to market sources. Specifically, for the East Anglia Hub offshore wind power macro-project that it plans to develop in UK waters, as announced by the Spanish energy company in an official statement. Without referring to this project, Iberdrola acknowledges that "in any specific case there may be an open discrepancy with Siemens Gamesa or with any other provider". The underlying problem, as occurs with other infrastructures underway, is the increase in the prices of materials and other services.
Thus, the company chaired by Ignacio Sánchez Galán acknowledges that "there is a highly stressed market due to multiple factors that affect prices and terms (raw materials, logistics, electronic components, chips or global supply chains)". In this context -he stresses- "it is normal that in many companies there are reviews of contracts and sometimes commercial discrepancies in their interpretation".
The energy company considers that this "is part of the common dynamics of any commercial relationship." Some differences that "normally are ventilated between the parties or, in exceptional cases, in the courts." Siemens Gamesa, for its part, refrains from commenting.
The aforementioned sources indicate that the designation of "preferred supplier" that Iberdrola attributed to its former partner "was closed, but not perfected", something that was expected to happen last October. However, the East Anglia Hub offshore wind project itself has yet to be officially awarded to Scottish Power, the Iberdrola subsidiary that promotes a project whose investment will be around 12,000 million euros.
In fact, the call for the award of these projects, with a guaranteed electricity price, requires, in addition to financial solvency (they are capital intensive) and technical solvency, that they also have a guaranteed supply of the material.
Inflation has outpaced the budgets agreed before the energy crisis
With inflation skyrocketing, "nobody signs turnkey contracts anymore to develop renewable plants," say business sources.
At Iberdrola they insist on downplaying the matter and stress that they have orders for a good number of parks with the German company, their former partner in Gamesa. The East Anglia Hub turbines, 200 units of 14 MW, are considered the most innovative technology in offshore wind.
tensions
In the background are the tensions of a business, that of wind turbine manufacturers, for which the accounts are not coming out. Groups like Siemens Gamesa are called to be the main players in the energy transition, but they do not achieve sufficient margins on their projects to guarantee their own profitability.
SG is the world leader in offshore wind power but this year (it closes its balance sheets on October 1) it lost 940 million, in addition to previous red numbers of 1,545 million. Thus, the group led by Jochen Eickholt will make 2,900 layoffs (475 in Spain). And it will sell eight of the nine plants it has in the country.
Siemens Gamesa, like its competitor Vestas (loss of 1,030 million in the first nine months), is penalized by the fact that the terms of wind projects are long, especially those in the offshore field.
The agreement between Siemens Gamesa and Iberdrola should have been finalized last October
They take between four and seven years. And the price, until now, was set at the beginning. The inflation of raw materials and logistics have led those contracts to losses. And Eickholt and his team have met with clients, including Iberdrola, to renegotiate prices.
Siemens Gamesa and Iberdrola have a long history of differences, with lawsuits involved.
Iberdrola was a reference shareholder and continues to be a very relevant client for its renewable investments.
SG equipped the three power plants in operation
Since 2014. Iberdrola debuted in the offshore sector in 2014 with the WoDS complex in United Kingdom waters. With 108 wind turbines supplied by Siemens, which later, in 2017, merged its wind assets with those of Gamesa to light up the current renewable group.
In Germany. The electricity company chaired by Ignacio Galán located the Wikinger park in German waters. He also relied on Siemens Gamesa (SG) as a supplier, in this case of 70 turbines with a unit capacity of 5 MW. Located in the Baltic Sea, it has been operating since October 2018.
EA1. The East Anglia One (EA1) complex is Iberdrola's third and the one with the highest capacity to date. It started operations in 2020 with a capacity of 714 MW. Siemens Gamesa was once again awarded the turbines. In this case, 102 units with a capacity of 7MW each. A commercial relationship that has now been broken, for now.
France. Iberdrola's most advanced offshore wind project at the moment is Saint Brieuc, off the coast of French Brittany. Under construction and by the way with 62 Siemens Gamesa turbines.