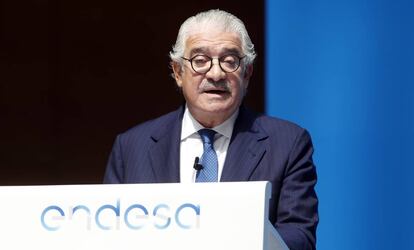 The second Spanish electricity company, Endesa, has committed this Wednesday to its shareholders to distribute 70% of its net ordinary profit in dividends for the next three. The new strategic plan of the company led by José Bogas also includes a 15% increase in total investment in Spain, up to 8,600 million euros, with renewables as a priority growth objective. The reception from investors has, however, been negative: its shares fell more than 5% in the first hours of listing.
The development of wind and solar farms will take the bulk of the investment planned for the 2023-2025 period: half will go to that end, almost 40% more than in the last strategic plan. There will be 4,400 new megawatts (MW) of installed solar power, to which must be added another 1,400 of photovoltaic. Added to what has already been built, Endesa hopes to touch 14,000 MW of green power at the end of that time frame. So, 91% of its generation in the Peninsula should be emission-free, nuclear included, almost 20 percentage points more than today.
This accelerated expansion of renewables fits into the new line set by Endesa's parent company, the Italian Enel, which announced the day before that it would abandon gas sales in Spain to focus all its efforts on the electricity market.
"In the current market context, the acceleration of the electrification of energy consumption from clean sources is revealed as the way to achieve a reliable energy system," Bogas emphasized at the conference with investors held this Wednesday. The goal, he has said, is to "cover an increasing proportion of the fixed-price contracts" signed with his customers with his "growing emission-free production." That, he says, will guarantee "competitive prices." Today, in addition to being the cleanest technologies, both wind and solar are the cheapest to generate electricity.
In the commercial area, Endesa expects to add 400,000 new customers by 2025, 6% more. This increase, he assures, will allow the total volume of electricity sold at a fixed price to grow by 2%. The prices of these contracts, however, will fall very slowly from their current all-time highs: the expected decline is barely 10% between now and 2025 despite the fact that the expected landing in the wholesale light market is much elderly.
66,000 charging points
Despite the fact that the deployment of the electric car in Spain is out of step with respect to the rest of the large European countries, the path is set, with an acceleration in the registrations of this type of vehicle in the coming years. And Endesa does not want to be left behind in the race to replace gas stations with plugs: the strategic plan submitted this Wednesday to the National Securities Market Commission (CNMV) involves multiplying the number of public and private charging points by five. They will go from 14,000 to 66,000.
THE COUNTRY of the morning
Wake up with the analysis of the day by Berna González Harbor
RECEIVE IT