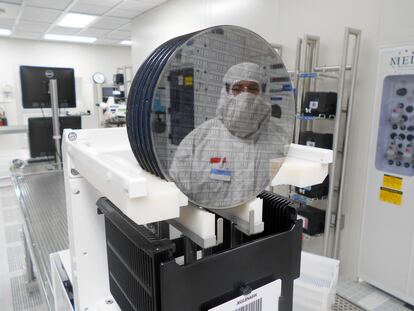 Phones, computers, digital cameras, televisions, washing machines, refrigerators, and microwaves all need semiconductor chips to work. Beyond the devices of daily use, its reach reaches the military, automotive and industrial sectors that every day depend more on this technology. This is why the United States wants to produce more chips in its own territory (or, in allied territories). It's a matter of "national security," the White House has said, but it's also a business: semiconductor chip sales revenue this year is estimated to be $596 billion worldwide, according to consultancy Gratner.
During Joe Biden's visit to Mexico as part of the North American Leaders Summit this week, the US and Mexico agreed to expand the semiconductor supply chain so that Mexico contributes some of the key minerals that can be found in the state of Sonora and can provide labor in some of the processes. This could bring great benefits to Mexico, but the country's low educational level will limit its potential, experts say.
Made of silicon, a kind of refined sand, semiconductor chips have properties to conduct electricity. "They are so advanced that they can contain more than 100,000 million transistors in a single piece of silicon, so many that it would take a person more than 1,000 years to count each one aloud," describes the Association of the Semiconductor Industry of the United States. (SIA) in its most recent annual report. That is why they have become ubiquitous.
According to the most recent data from SIA, that industry generated revenues of more than $45 billion globally in November of last year alone. The industry is expected to be worth $1 trillion by 2030, according to consulting firm McKinsey.
American, German, Dutch and Chinese companies are among the largest producers of this technology, but a large part of their operations are in Taiwan and the Joe Biden government seeks to bring these operations to their country or, at least, to allied countries. like Mexico. During the most intense peaks of the covid-19 pandemic, between 2020 and 2021, disruptions to global supply chains led to a shortage of semiconductor chips. This delayed the production of millions of products, generating, in turn, inflation. The crisis was the impulse that ended up convincing legislators in the US from both political parties that investing in the national industry is urgent. At the end of last year, the Government passed the Chips and Science Actwith which billions of dollars will be invested in incentives for the industry.
Much of today's production is in China, explains James Lewis, an expert at the Center for Strategic and International Studies (CSIS), who has worked in the State and Commerce Departments. The country has been very aggressive against the US since Xi Jinping took power, Lewis explains, and not having more control over chip production puts the US in a vulnerable position.
"Suddenly we find ourselves in a competition with a hostile power that is China," he says by phone from Washington. "It's that competition with China that's driving this because China plays by a different set of rules and the US has decided that it needs to focus on emerging technologies, core technologies, like semiconductors. These are the most important right now because they're everywhere: it's in your car or on your fridge, on your phone. They are the core industry of the global digital economy."
Due to ambitious chipmaking incentives offered by foreign governments and ongoing consolidation in the industry, the share of US-made semiconductor manufacturing capacity has dropped by more than 10% over the last 8 years, says the SIA report published at the end of 2022. Despite this, technology has become the country's fifth most important export, after refined oil, aircraft, crude oil and natural gas. The White House initiative "doesn't put the country in the lead," says Lewis, "but allows it to catch up."
Part of the effort that Biden is making consists of placing incentives – such as tax breaks – for companies that invest in producing chips in their country, but another part is geopolitical. In October, Washington issued an order prohibiting US companies from supplying semiconductor chips and chip-making devices to Chinese companies. It also prohibited US citizens from working for Chinese semiconductor companies.
"There is too much political risk in China and some of it has to do with us," says Lewis. "Regulation alone has to do with Xi Jinping, who can be an unpredictable authoritarian at times, but the companies are not just American, they are also European, Japanese. Companies are saying, 'I already have three factories and I'm going to build a fourth. Maybe I should build it in Southeast Asia, or in Israel. Maybe I should build it in Central America or Mexico.' What you are seeing is a move away from China," he explains. This distancing with China intensified from the Asian country's support for Russia in its offensive against Ukraine, adds Lewis.
However, Mexico's low educational level compared to its peers in Asia, for example, will limit its participation in the industry. The most sophisticated semiconductor chips require complex production, as well as a large investment in research, Lewis explains. These types of jobs, which are better paid, are not offered by Mexico, so this part of the supply chain will surely go to the US or Canada. Costa Rica, for example, one of the countries with the best educational level in Latin America, has several facilities of one of the large chip producers, Intel.
"The manufacturing stage is very sophisticated for the most advanced chips, only a few countries can do that," Lewis explains. "But there are many other stages, such as testing, packaging, design, that are not very labor-intensive in terms of technology. And that is one of the things in which countries like Mexico could have an advantage", predicts the specialist.
subscribe here to newsletter from EL PAÍS México and receive all the key information on current affairs in this country
Subscribe to continue reading
Read without limits